Annual All-American Fish & Shrimp Fry
Date: 5 Aug Time: 11:00am - 3:00pm Location: Core Sound Waterfowl Museum & Heritage Center, Harkers Island, NC Description: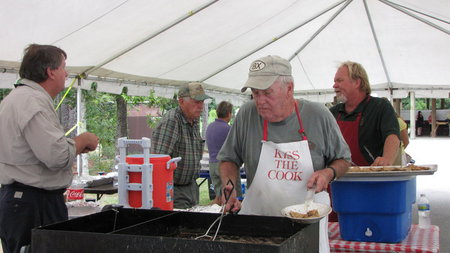 Phone: 252-728-1500
Do you appreciate our active military families and our veterans?
​
Sure you do ....
Saturday, ​August 5​ (11 am to 3pm)
Annual All-American Fish & Shrimp Fry and we hope you will ​help honor our active military and veterans enjoy a day of local seafood and fellowship as our guests for this event by being a sponsor for this event.
Sponsorships are $100 and that provides tickets for 8 military/veterans to each free! ​
Other ways to support this event:
- ​ ​MARK YOUR CALENDAR TO ATTEND
- Make plans to VOLUNTEER
- ​Buy some tickets ​for your friends and family​ (call and reserve today) ​ and ​bring a Veteran
​- BAKE SOMETHING ​DELICIOUS FOR THE BAKE SALE
Let us know ​what you can bake/bring (we're working on that now too!)​ or pre-order your favorite dessert. (Taking orders now for lemon pies and fig cakes.)
​Please​ help us make this event a success. ​Our goal is to serve 100+ ​active military duty families from Cherry Point and ​all our local veterans because ​we want them to know we appreciate them! ​ Please help us provide this wonderful day Down East by helping sponsor tickets for these All-American heroes.
​
Live music, children's activities and a COOL PLACE TO VISIT ​!