Feast Down East Local Food Conference
Date: 16 Feb Time: 8:30am - 3:00pm Location: UNC-Wilmington, NC Description: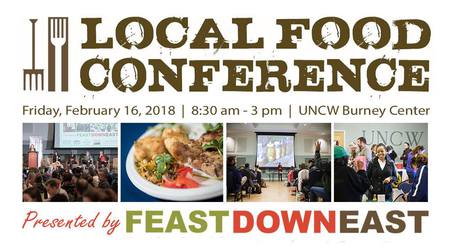 Feast Down East's 8th annual Local Food Conference brings together all those in our community who are involved in supporting and growing the local food system in Southeastern North Carolina. This includes farmers and fishermen, food retailers and establishments, foodies, local food advocates, and community leaders. The conference aims to strengthen the activities of these groups and the relationship between them. This event is co-presented by the Cape Fear Food Council, a grassroots collaboration working toward a stronger, more equitable food system in the region.
Features of the 2018 Local Food Conference:
· Connecting farmers to a variety of local and state-wide resources and collecting feedback about existing or needed support services
· Creating dialogue between local food advocates, public administrators and policymakers
· Developing strategies to strengthen our food system through the Cape Fear Food Council and other collaborative efforts
The 2018 Local Food Conference includes the Community Foods Expo, featuring local and state organizations with farm and food-related services.
Conference registration includes the highly anticipated and locally-sourced breakfast and lunch. We hope to see you there!
$20 for farmers and students, $35 general public