Mullet Chowder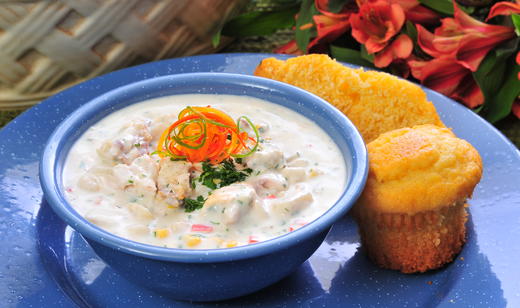 1 ½ pounds mullet fillets, skin off
4 strips bacon, chopped
1 cup onion, chopped
1 cup celery, diced
3 cloves garlic, chopped
1 (10 ½-ounce) can of cream of potato soup
1 cup bottled clam juice or chicken broth
2 cups whole milk
2 tablespoons Worcestershire sauce
1 teaspoon liquid hot pepper sauce
2 teaspoons black pepper
1 tablespoon salt
1 cup white potatoes, cooked and diced
1 (15 ¼-ounce) can whole kernel corn, drained
parsley, chopped
Cut mullet fillets into chunks; set aside.
In a large Dutch oven, fry bacon over medium heat until light brown.
Add onions and cook until onions are soft.
Add celery and garlic and cook for 5 minutes.
Stir in soup, clam juice, milk, Worcestershire sauce, hot pepper sauce, salt and pepper.
Add potatoes and corn. Then add mullet.
Bring to a boil and simmer until the fish flakes easily when tested with a fork.
Serve sprinkled with parsley.
Source: Florida Dept. of Agriculture and Consumer Services